"Fabulous massage and caring staff. My son-in-law finally found relief from serious shoulder and arm pain that other therapists and chiropractors didn't help. My husband and I are also experiencing more relief from neck pain each time we go. They are the best!"
- Karen K.
"Absolutely the best! Leta and Jessica both give the ultimate massage! Especially if you have an injury or chronic pain! Don't wait any longer, call and make an appointment today!"
- Jill J.
"If you're looking to relieve your sore aching body of pain, this is the place to go. It's obvious that Leta cares for her clients and wants them to achieve optimum levels of a pain free life. The results of their massage techniques are incredibly positive and effective! I highly recommend The Art Of Massage and support their vision of helping others."
- Kathleen L.
Call Us
727.323.3933
Monday – Saturday
8:45 AM – 7:00 PM
Phone Calls will be returned within one hour during normal business hours.
Our Address
Art Village Court Yard
2914 1/2 #3 Beach Blvd. South
Gulfport, Florida 33707
Directions
Our clinic is accessible by stairs only. Please call to make arrangements if you need assistance.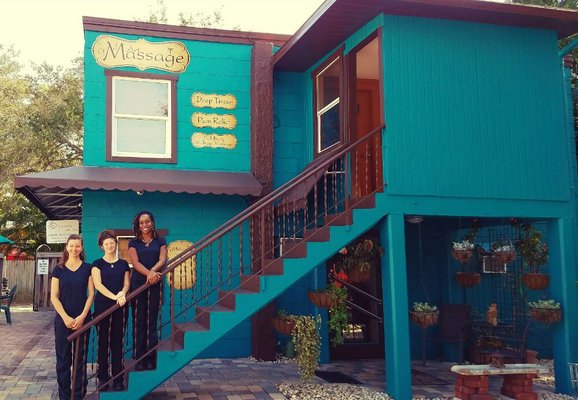 Within the Gulfport Village Court Yard you will find:
Vintage: A cute little Wine Bar
Wendy Olendorf :A dress maker
Low Tide: a Kava Café
A Perfect Ten Nail Salon
Mildred Maloy's: A Florist
Red Hot Teaky: A Hot Sauce Heaven
Visit on Tuesdays 9am-3pm and shop The Gulfport Tuesday Fresh Market
. There is a great selection of fresh veggies, bread, fish, fun things to eat, art, jewelry, and lots of eye candy.
There is also a great selection of restaurants and cafes within a 5 block radius.